Designed for load carrying touring/work and service vehicles when you need both stability & safety.
Designed for touring, load carrying vehicles when you need both stability & safety.
Designed for touring, load carrying vehicles when you need both stability & safety.
JMACX is the innovator and industry leader in coil conversions, 6×6, 4×4 suspension systems and GVM upgrades for the ultimate vehicle. Giving you the strongest coil conversion on the market with full engineering and road legal in Australia for up to 4inches of lift and 35inch tires. With the GVM upgrade this is the ultimate suspension upgrade for outback tourers, commercial vehicles and the weekend warrior. Tested and proven in some of the world's harshest conditions.
Don't get caught short. GVM'S to suit the real world, maximum loading capabilities.
For our 4×4 suspension kits have a look through the 3800 – 4495 GVM upgrade selections below.
For our 6×6 suspension conversions have a look through the 4495kg GVM to 6000kg GVM upgrade selections below.
Your vehicle's Gross Vehicle Mass (GVM) is the maximum weight your vehicle can carry when fully loaded.  Absolutely everything on your vehicle add to the the Gross Vehicle Mass and needs to be accounted for.  This includes the vehicle itself, any load you're carrying, fuel, accessories and also any additional tow ball load from a trailer, camper or boat.
It's important to understand that your vehicle GVM is not only a safety requirement, it's a legal requirement as well.  You'll also notice that your vehicle won't perform as well when driving close to the manufacturer's factory GVM specification.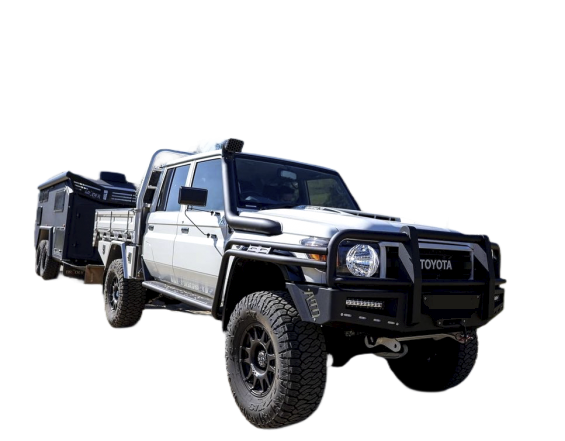 GVM Upgrade & Coil Conversion Frequently Asked Questions
What model vehicles does JMACX offer GVM upgrades for?
Toyota: 70 Series GVM Upgrades: 79 Series dual cab and single cab, 78 Series (Troop Carrier), 76 Series (Wagon), 200 Series, 300 Series 
Dodge: Ram DS 1500, Ram DT 1500 (coming soon)
Ford: Ranger Next Gen (coming soon)   
What are my GVM Upgrade options?
3800 GVM upgrade: 200 and 300 Series
3900 GVM upgrade: 70 Series GVM, 70 Series Coil Conversion
4200 GVM upgrade: 79 Series GVM, 70 Series Coil Conversion, 200 Series, 300 Series, Ram DS 1500
4495 GVM upgrade with 300mm Chassis Extension: 79 Series Dual and Single Cab
4495 GVM upgrade 6×6: 79 Series Dual Cab and Single Cab
5300 GVM upgrade 6×6: 79 Series Dual Cab and Single Cab
5800 GVM upgrade 6×6: 79 Series Dual Cab and Single Cab
Does the kit contain parts that are custom and maybe difficult to find if in the middle of nowhere?
The JMACX housings maintain all factory brakes, hubs, bearings, seals, diff lockers etc.

Our Coil Conversions uses factory length Landcruiser control arms and panhard.

Most parts maintain OEM Toyota bushes, so parts can be easily accessible anywhere in the world.
What does an upgraded differential allow me to legally increase my axle load rating to?
Adding an upgraded diff housing with a higher rating e.g. 3,000Kg does not automatically increase your axle load capacity to 3,000Kg. The diff housing upgrade is only one piece of the equation. To achieve an increased axle capacity requires not only axle load but also springs and shocks engineered to carry and control the weight. Load rated wheels and tyres are also required. Axle load capacity is fixed by the GVM provider. Adding a higher rated differential will not give you an increased usable axle load if the GVM states a lesser axle load.
What is the lead time for my GVM upgrade?
Depending on stock, availability and this lead time with our manufacturing team. Complete your free online quote using our GVM upgrade builder and ask for further contact to answer your questions regarding timing of your upgrade. Or reach out to one of our JMACX authorised facilities.
What is the approximate timeline to fit my GVM upgrade?
Suspension GVM kit – 1-3 working days

Coil Conversion – 7-14 working days

Leaf upgrade – 7-14 working days

Chassis extension – 2 weeks

6×6 Conversion – 4-6 weeks

200 Series / 300 Series / Dodge Ram  – 5-7 working days
* Depending on what accessories are being fitted to the vehicle. Approximate time lines.
What size wheel can I run on a GVM upgrade?
You can only run the wheel size stated on your wheel placard that has been supplied to you by your GVM provider as the GVM has allowed you to carry more load and has been tested on the specific tyre size stated. The 50mm greater tyre limitation that applies to standard vehicles (VSB14) does not apply to GVM upgrades in all States of Australia. Running larger size tyres than your GVM states may void your insurance in the case of an accident due to not meeting the braking requirement testing.  All our GVM kits provide at least 33 inch wheels, and some offer 35 inch depending on the specific GVM.  Follow the GVM Upgrade quote process to see what options are available for you.   
Does the 70 Series GVM upgrade offered by JMACX corrected the rear vehicle track?
Yes this is a popular reason for having a JMACX GVM upgrade.  From 2007 onward the rear differential of 70 series Landcruisers all are 100mm narrower in the rear diff.  By widening the track to match the front differential there is greater control on dirt roads and sand tracks. Note: wheel spacers and large offset wheels over 25mm are illegal in all States of Australia.
Why do I need a brake upgrade for some GVM upgrades and not others?
Brake upgrades are often required either due to the size of the GVM upgrade and or the fact that larger tyres are permitted on one GVM over another. As your vehicle's ability to carry and tow more weight increases, more braking performance is required to stop the vehicle in emergency situations.
Can I have a custom colour?
We offer custom colour for Coil Conversion cradles and radius arms.  Coil conversion cradles come standard as satin black finish, for no extra charge choose from our colour range. Radius arms are gold SA-5 coated as standard.  For an additional charge of $80 you can select a colour from our colour range. If you would like other parts custom coloured eg. coils, differential etc please contact your local JMACX authorised facility to have your parts custom coloured for an additional charge.
How strong are the upgraded differential axles?
The JMACX differential housings are full fabricated units that exceed the strength of the factory original unit.  JMACX axles are the strongest production manufactured axle for Toyota Landcruiser available. 100% Australian made and designed.
After my GVM is fitted, can I change some of the components of the GVM?
No. Any component that is changed or replaced must be from the GVM provider and must be the part that is specified under the engineering for that GVM. If any part is changed or removed your GVM will be void, your vehicle will technically be illegal. Therefore in the case of an accident your insurance can be voided.  GVM upgrades are approved by the Federal and State Government, backed by stringent testing and requirements to allow you to carry more load in your vehicle and must be adhered to for legal compliance.
Can I add additional parts to the GVM upgrade?
While some parts are included as standard to fulfil the GVM specifications, there are many additional parts and accessories you can option as you complete your GVM builder quote.
Will my GVM reduce the articulation in my vehicle?
No, however more weight will be required to make the suspension flex. It is not possible to have massive flex on a load carrying vehicle as this will compromise the vehicle's stability and safety when loaded.
FACT: Diff lockers will outperform flex when it comes to off road capability.
What is the difference between State and Federal approval?
Federal approval is done prior to first registration (pre rego). This vehicle is then registered as a vehicle manufactured by the GVM provider i.e. no longer a Toyota Landcruiser. This is called a Second Stage Manufacture (SSM). These vehicles must be provided at first registration with no other modifications other than the specific approved GVM kit. This vehicle is compliant in all States and does not require any further engineering unless modified outside its original design.
State approval is done post registration in your applicable State. Even though an SSM approval can be applied to a post register car there may be some restrictions due to State legislation. For example lift height, tyre size, GCM and BTC increases. Recommended to check with your State legislation for compliance. All GVM upgrades post registration only apply to the State your vehicle is registered in. If you try to register the vehicle in another state you will be required to be re-engineered in that State.
Can I lift my vehicle higher after my GVM is complete?
No. The vehicle must remain as per the GVM certification due to the engineering testing. Doing this will void your insurance in the event of an accident.
However if the GVM and lift was completed pre registration you can have your vehicle lifted from 2 to 4 inch through an authorised JMCX facility only.
Should I just buy the biggest GVM available to ensure I have enough carrying capacity?
No, not in all applications. For example all leaf GVM suspension kits will have a leaf spring designed to carry a minimum weight requirement (your GVM provider will supply a label stating minimum weight requirement). However using a coil spring suspension will differ, allowing you to have a larger range of carrying capacity and comfort.  Therefore it's important to calculate the potential weights of your vehicle and whether your load will be constant or it will be variable. And if variable how big is this variance in weight change.  As this may affect your choice of GVM suspension type.
Does my GVM have Australia wide support?
Yes, JMACX have over 30 facilities Australia wide who specialise in suspension.
Will It effect my insurance?
​No, but it is up to each individual to check with their insurer. Generally insurers only require the vehicle to be legal.